Possible use of large pieces of wood
Both primary and secondary air is preheated to a relatively high temperature – higher heating coefficient of performance
After all fuel is burnt, the fan will automatically turn off
Easy & simple operation and maintenance, cleaning
The combustion chamber (firebox) is fitted with ceramic blocks – high coefficient of performance
Large solid fuel hopper – a long time of burning
Large ashtray
The boiler is equipped with a pipe wall – provides easier way of cleaning
High quality
High heating coefficient of performance
A low fuel consumption
Easy, convenient and very comfortable operation (fuel is only necessary to be fed 2 or 3 times in 24 hours)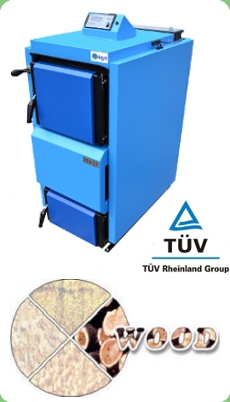 We offer environment-friendly wood-fired boilers with a heat output capacity from 18 to 80 kW. MAGA MA hot-water boilers are intended for heating homes (such as apartments, family houses, suites, townhouses) and smaller industrial buildings (manufacturing shop floors).
These boilers are designed exclusively to burn wood. Any dry wood such as chopped logs or wood chips with maximum length of 500 mm can be used as fuel for this type of boiler. Untreated wood waste such as sawdust, splinters or small chips may also be used, but this type of fuel should at all times be combined with whole wood pieces. Logs with larger diameters can be used as well. If so done, the boiler's rated output capacity will decrease and the period of burning will extend. Approximately 1-2 % of the amount of the wood burnt in a boiler will be deposited in the form of ash into the ash disposal area (which should therefore be cleaned once or twice a week). Taking into account the low emission of harmful substances, the operation of this type of boilers is a significant contribution to improving the environment.
The boiler shell is made from steel plates as a welded assembly. It consists of a fuel feed hopper, which at its bottom part is equipped with a fireproof tile block that comprises a longitudinal opening (nozzle) for exhausting the combustion products. There is an afterburning space located beneath the nozzle fitted with ceramic tile blocks. In the rear part of the boiler there is a vertical tube plate that, in its upper part, merges into a collecting duct where there is a firing valve. The collecting duct's rear part is equipped with an exhaust socket for connecting the duct to the chimney. There is a fan located on the front side equipped with a clapper valve which automatically regulates the air flow into the fan.
The outside surface of the boiler body is thermally insulated with mineral wool inserted beneath sheet metal covers of the boiler's outer shell. Both the primary and the secondary air flows are preheated and then distributed in a desired, ideal proportion to the boiler's combustion chamber and to the nozzle.
MAGA MA– this is a well proven type of easy-to-use wood-gasifying boiler with very simple controls and clear instructions. These boilers are manufactured from steel boiler plates having a thickness of 3-6 mm.
Boiler Operation
In their method of burning, the MAGA MA boilers significantly differ from common solid fuel fired boilers. The process of burning is designed based on the principle of generator-based gasification reactor operating at very high temperatures (approx. 1100 ° C). The burning of woodgas is supported by a fan that drives the primary combustion air into the firebox and the secondary air into the nozzle. This combustion system is highly economic because it results in a fuel savings of about 40 percent. The operation of boilers places only minimal demands on human intervention as the semi-automatic controls require almost no manual steps to operate. The fuel hopper's volume is large enough to encompass fuel for 8 to 12 hours of operation at a medium capacity output.
---
Set Prices (INCL. VAT):
Prices subject to change without notice.
1 MAGA 25 BOILER
1 ACCUMULATION TANK 1500L
1 EXPANSION TANK 150L
1 SAFETY VALVE
1 MIXING VALVE
2 THERMOMETER
1 THERMOREGULATIONS VALVE
PRICE INCL. VAT € 5568
1 MAGA 25 BOILER
2 ACCUMULATION TANKS EACH 800L
1 EXPANSION TANK 160L
1 SAFETY VALVE
1 MIXING VALVE
2 THERMOMETER
1 THERMOREGULATIONS VALVE
PRICE INCL. VAT € 5803
1 MAGA 25 BOILER
2 ACCUMULATION TANKS EACH 1000L
1 EXPANSION TANK 200L
1 SAFETY VALVE
1 MIXING VALVE
2 THERMOMETER
1 THERMOREGULATIONS VALVE
PRICE INCL. VAT € 6008
1 MAGA 25 BOILER
1 ACCUMULATION TANK 2000L
1 EXPANSION TANK 200L
1 SAFETY VALVE
1 MIXING VALVE
2 THERMOMETER
1 THERMOREGULATIONS VALVE
PRICE INCL. VAT € 5903
1 MAGA 31 BOILER
1 ACCUMULATION TANK 2000L
1 EXPANSION TANK 200L
1 SAFETY VALVE
1 MIXING VALVE
2 THERMOMETER
1 THERMOREGULATIONS VALVE
PRICE INCL. VAT € 6003
1 MAGA 31 BOILER
2 ACCUMULATION TANKS EACH 1000L
1 EXPANSION TANK 200L
1 SAFETY VALVE
1 MIXING VALVE
2 THERMOMETER
1 THERMOREGULATIONS VALVE
PRICE INCL. VAT € 6108
1 MAGA 40 BOILER
1 ACCUMULATION TANK 2000L
1 EXPANSION TANK 200L
1 SAFETY VALVE
1 MIXING VALVE
2 THERMOMETER
1 THERMOREGULATIONS VALVE
PRICE INCL. VAT € 6343
1 MAGA 40 BOILER
2 ACCUMULATION TANKS EACH 1000L
1 EXPANSION TANK 200L
1 SAFETY VALVE
1 MIXING VALVE
2 THERMOMETER
1 THERMOREGULATIONS VALVE
PRICE INCL. VAT € 6548
1 MAGA 49 BOILER
2 ACCUMULATION TANKS EACH 1500L
1 EXPANSION TANK 300L
1 SAFETY VALVE
1 MIXING VALVE
2 THERMOMETER
1 THERMOREGULATIONS VALVE
PRICE INCL. VAT € 8109
1 MAGA 49 BOILER
1 ACCUMULATION TANKS EACH 3000L
1 EXPANSION TANK 300L
1 SAFETY VALVE
1 MIXING VALVE
2 THERMOMETER
1 THERMOREGULATIONS VALVE
PRICE INCL. VAT € 7858
1 MAGA 49 BOILER
1 ACCUMULATION TANK 2500L
1 EXPANSION TANK 250L
1 SAFETY VALVE
1 MIXING VALVE
2 THERMOMETER
1 THERMOREGULATIONS VALVE
PRICE INCL. VAT € 7393
1 MAGA 80 BOILER
4 ACCUMULATION TANKS EACH 1500L
1 EXPANSION TANK 600L
1 SAFETY VALVE
1 MIXING VALVE
2 THERMOMETER
1 THERMOREGULATIONS VALVE
PRICE INCL. VAT € 13515
1 MAGA 80 BOILER
3 ACCUMULATION TANKS EACH 3000L
1 EXPANSION TANK 600L
1 SAFETY VALVE
1 MIXING VALVE
2 THERMOMETER
1 THERMOREGULATIONS VALVE
PRICE INCL. VAT € 12833
1 MAGA 80 BOILER
3 ACCUMULATION TANKS EACH 2000L
1 EXPANSION TANK 600L
1 SAFETY VALVE
1 MIXING VALVE
2 THERMOMETER
1 THERMOREGULATIONS VALVE
PRICE INCL. VAT € 12823
 Technical Parameters