ATTACK PELLET 30 AUTOMATIC PLUS
Modern wood pellet burning boilers ATTACK Pellet 30 Automatic Plus save environment by their perfect combustion.
Their user enjoys comfort comparable to gas burning. Boilers for wood pellets with regulated output of 8–30 kW are intended for heating of dwelling houses, cottages, small plants, workrooms and similar objects.

Fuel is burned in the stainless steel burner, intended for combustion of the wood pellets. Fuel is automatically ignited by electrical spiral, built into the burner. Optimal burning conditions and output regulation are provided by electronically controlled fuel feeding and air inlet, following the parameters of heating and d.h.w. warming, required and set by the user. Burner, combustion chamber and exchanger are constructed to ensure optimal burning of all combustible materials. Boiler body is isolated with mineral wool, design is completed with powder-treated coating.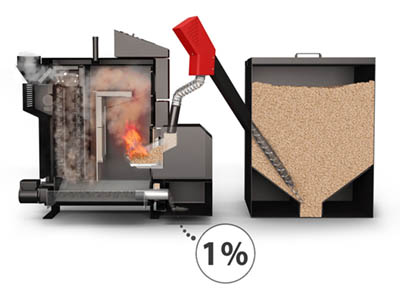 Basic part of the boiler is a water cooled boiler body. Welded piece of the body is made from special boiler steel plates of 6 mm thickness, which guarantees long lifetime of the boiler. Exchanger is tubular, with turbulators improving heat transfer into the heating water and enabling exchanger cleaning to ensure balanced efficiency.
The boiler is equipped with spiral fuel feeder (1,5 m), ensuring continual fuel dosing. The ATTACK Pellet 30 Automatic Plus boiler can be delivered with pellet container of 450 l volume (dimesions: 1.024 x 705 x 830 mm). The "big-bag" – the external textile tank can be used as an alternative.
The ATTACK Pellet Automatic Plus boiler is equipped with automatic system for ash removing into detachable box. Box of appropriate volume has to be emptied one time pro heating season, according to the season and intensity of boiler operation. Boiler can be also accessorized with electrical heating device of 2,4–6 kW output.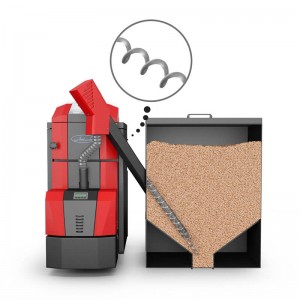 Boiler constructively consists of combustion chamber with partitions and tubular heat exchanger. Beyond the heat exchanger, the flue gas goes into collector with chimney, that can be horizontally or vertically oriented by turning the flange for 180°C. There is a wood pellet burner built-into the boiler body.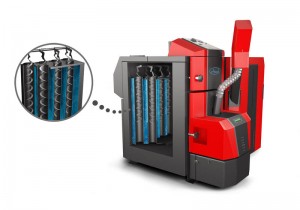 FUEL – PELLETS
The pellets are a by-product of wood processing. Their advantage is the extreme density and very low water content. They are used as a substitute to fossil fuels in boilers, furnaces and fireplaces are quality and environmentally friendly fuel. Their properties make them suitable for use in boiler rooms with automatic operation.
By wood pellets combustion in the ATTACK boiler, there is minimal ash production. Amount of ash depends on quality of pellets and represents approximately 1 % of the consumed fuel. Recommended fuel for the ATTACK Pellet 30 Automatic Plus are wood pellets with max. humidity of 12 %, diameter of 6 – 8 mm and max. length of 35 mm. Recommended ash content is 1 %. Heat value of the prescribed fuel should be 15 – 17,5 MJ / kg.
Boiler parameters
Parameter
Unit
PELLET 30
Automatic Plus
Rated power
kW
30
Power setting range
kW
8 – 30
Heat exchange surface
m 2
1.9
Prescribed chimney draft
Pa
15 – 20
Max. working overpressure of heating water
kPa
250
Pressure drop on the water side
Pa
152 (DT = 10K),
38 (DT = 20K)
Boiler weight
kg
355
Exhaust port diameter
mm
150
Boiler height
mm
1220
Boiler width
mm
575
Boiler depth
mm
1250
Coverage el. parts
IP
IP 40
Max. electrical input (at ignition)
W
600
Operating electrical input
W
90
Boiler efficiency
%
90.6
Boiler class according to CO emission (according to EN 303-5)
–
5
Flue gas temperature at rated output
° C
143
Prescribed fuel
–
wood pellets ∅ 6 mm, l = 35 mm max.
Average fuel consumption
kg / h
2.4 – 6.9
The volume of water in the boiler
l
62
Heating water temperature setting range
° C
60 – 90
Flue gas mass flow rate at rated output

kg / s
0.015
Flue gas mass flow rate at minimum output
kg / s
0.005
Connecting voltage
V / Hz
~ 230/50