New modern design.
Wide range of boilers; 25-95KW
High quality special boiler steel, 6mm.
Burning of soft and hard wood in big combustion chanber.
High combustion efficiency. Low consumption of fuel.
The boilers fit the criteria of highest class according to the European norm EN303-5.
Low production of emissions.
Minimum waste.
Easy attendance and simple cleaning.
Automatic shutdown of the boiler after fuel burn out.
Suction fan assures balanced and effective combustion.
Equipped with a cool down circuit which prevents overheating.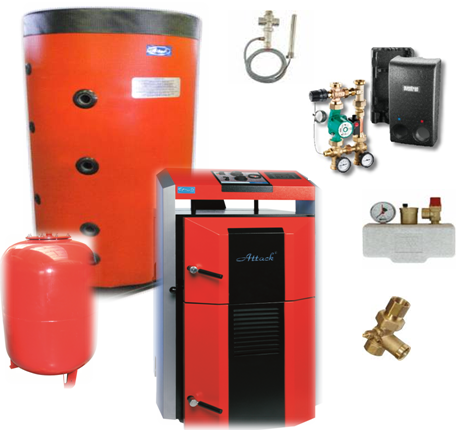 Make your appointment today to see the boiler working in our showroom. We will light up the boiler with you and explain how everything works.You will also be able to see how the wood gasification process works through our special glass door. (By appointment only)
---
Set Prices (INCL. VAT):
Prices subject to change without notice.
1 ATTACK DP 25 KW BOILER
1 MIXING VALVE UNIT
1 ACCUMULATION TANK 1500 L
1 EXPANSION TANK 150 L
1 THERMAL DISCHARGE SAFETY VALVE
1 SAFETY UNIT
1 CAP VALVE
PROFI BOILER INCL. VAT € 5518
1 ATTACK DP 25 KW BOILER
1 MIXING VALVE UNIT
2 ACCUMULATION TANKS EACH 800 L
1 EXPANSION TANK 150 L
1 THERMAL DISCHARGE SAFETY VALVE
1 SAFETY UNIT
1 CAP VALVE
PROFI BOILER INCL. VAT € 5753
1 ATTACK DP 25 KW BOILER
1 MIXING VALVE UNIT
2 ACCUMULATION TANKS EACH 1000 L
1 EXPANSION TANK 200 L
1 THERMAL DISCHARGE SAFETY VALVE
1 SAFETY UNIT
1 CAP VALVE
PROFI BOILER INCL. VAT € 5958
1 ATTACK DP 35 KW BOILER
1 MIXING VALVE UNIT
2 ACCUMULATION TANKS EACH 1000 L
1 EXPANSION TANK 200 L
1 THERMAL DISCHARGE SAFETY VALVE
1 SAFETY UNIT
1 CAP VALVE
PROFI BOILER INCL. VAT € 6135
1 ATTACK DP 45 KW BOILER
1 MIXING VALVE UNIT
3 ACCUMULATION TANKS EACH 1000 L
1 EXPANSION TANK 300 L
1 THERMAL DISCHARGE SAFETY VALVE
1 SAFETY UNIT
1 CAP VALVE
PROFI BOILER INCL. VAT € 7976
1 ATTACK DP 80 KW BOILER
1 MIXING VALVE UNIT
3 ACCUMULATION TANKS EACH 2000 L
1 EXPANSION TANK 600 L
1 THERMAL DISCHARGE SAFETY VALVE
1 SAFETY UNIT
1 CAP VALVE
Call 087969 2338 for Pricing
 Technical Parameters