Heizomat – Discharge System
The agitator with slackening geometry ensures the smooth transport of the heating material from the bunker to the boiler. The high degree of operating safety is assured by a strong solid shaft.
As a result of the shomb shape of our discharge channel, it is possible to transport smoothly very differently shaped fuels of different weights and sizes (up to G50).
It was this technology, developed by HEIZOMAT in 1982, which made safe, fully automatic, comfortable wood chip combustion first possible.
The discharge system is in three cross sections, 160, 200 and 250 mm, and for large units available with a separate drive for discharge auger and agitator.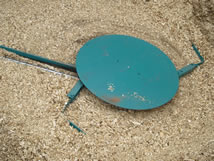 Agitator
• Inner extension springs
• Clearing diameter from 1 m to 7 m
• Loading height up to a max. 18 m
• Agitator disc for optimal distribution of pressure
• Highly loadable Bevel-Helical Gear with a torque of up to 5.000 Nm
• Shaft diameter 50 mm
• Cross sections 160, 200 and 250 mm
• Separate drive possible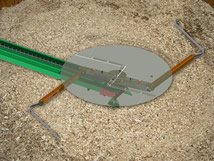 Patented-Parrallel-Agitator
• Parallel extension of the agitator arms
• Blowback-free and quiet bunker emptying
• Inner extension springs
• Clearing diameter from 1 m to 7 m
• Loading height up to a max. 18 m
• Agitator disc for optimal distribution of pressure
• Highly loadable Bevel-Helical Gear with a torque of up to 5.000 Nm
• Shaft diameter 50 mm
• Cross sections 160, 200 and 250 mm
• Separate drive possible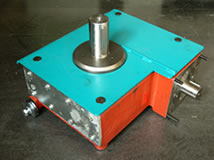 Discharge Gearbox
• specially designed bevel helical gear
• Torque up to 5.000 Nm
• dustproof design
Rotary Valve
• Back-burning protection
• Pressure lock
• Running wheel curved in rotation direction
• Counter blade made of high alloy steel
• Automatic reversion
Disharger Auger
• Shaft diameter 50 mm
• Auger blade thickness 8-6 mm
• Slackening geometry
• Auger lengths up to 6m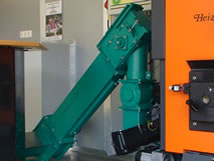 Inclined Chain Conveyor
• Enables a horizontal discharge channel
• An engine for discharge and conveyor
• In two sizes available
• Lengths up to 9 m possible
• Climb angle up to a max. 45°