System Control – HeizoControl MX System
The MX Heizocontrol has over 14 relay outputs and four PWM outputs for the rpm control of energy-saving highly efficient pumps, which optionally can be switched to the output of a 0-10 V-signal. In addition the control is equipped with a frequency input, three impulse inputs and a series of different sensor inputs.
The integrated SD card insert enables easy data recording and transmission. The large full graphics display permits the direct display of balance and course diagrams. Pre-defined functions simplify the system parametrisation, functional supplements such as the drainback options extend the application possibilities.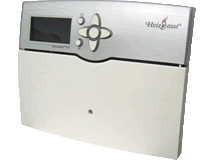 Technical Details
Control possibility of: – several heating circuit – a buffer loading – a circulation – domestic hot water
• Full graphics display
• 15 sensor inputs
• 14 relay outputs
• Also suitable for Grundfos Direct Sensors™
• Drainback option
• Rpm controlled triggering of high efficiency pumps
• Data recording on SD card
• Connection of up to five supplementary modules possible
• Energy-saving switching power supply